TL Reservation fills up
A fixed price known in advance

A service noted by our customers 4.8/5

A priority booking and 100% guaranteed

A fleet of 150 vehicles offering a solution for all profiles

A call back from our central within 10 minutes of your order to confirm your reservation

Real-time tracking of your driver to the meeting point

An ISO 9001 "Quality Management" certified label

And much more!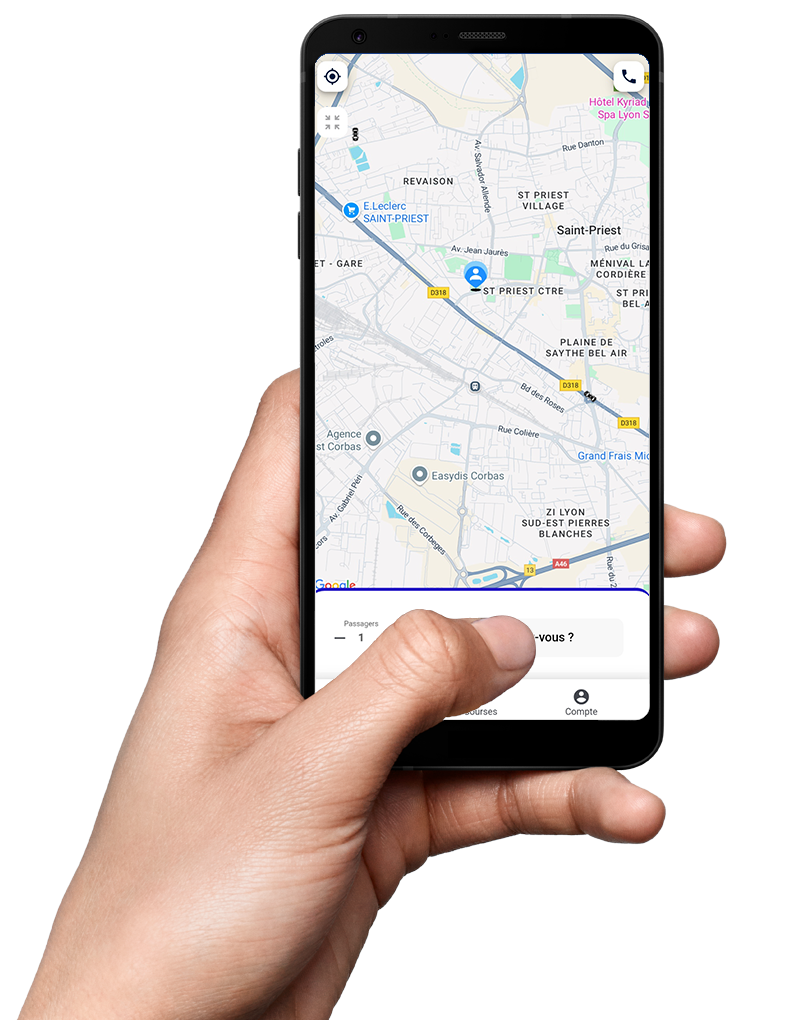 Quick and easy ordering in less than 3 minutes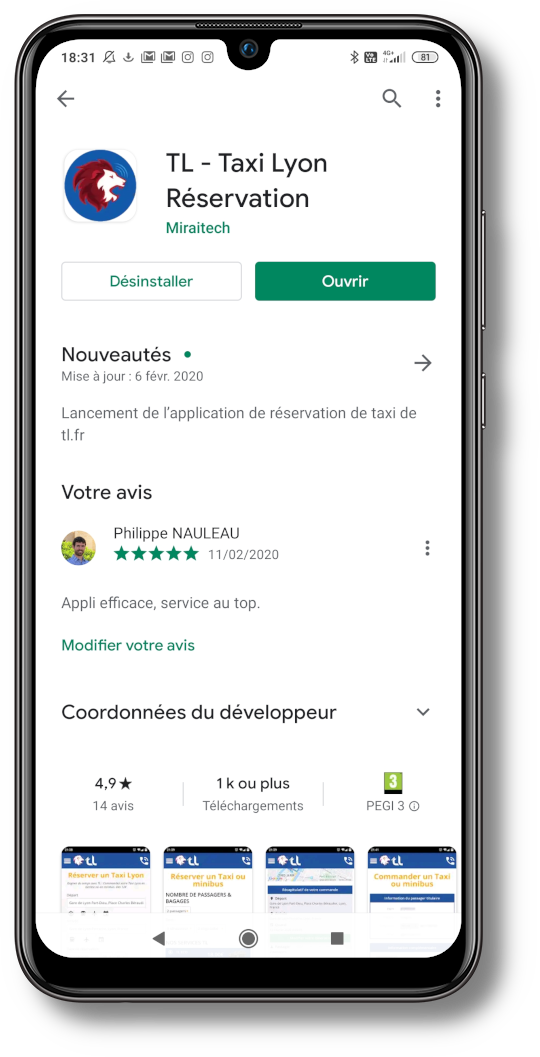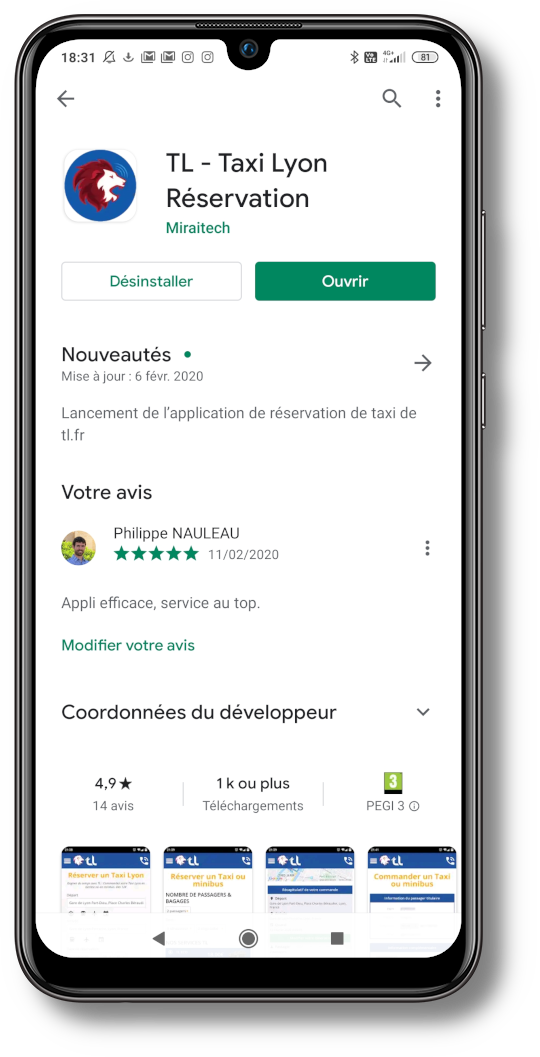 Download the TL Reservation app for free! The application is available on Android and iOS, and lets you book your taxi in a few seconds !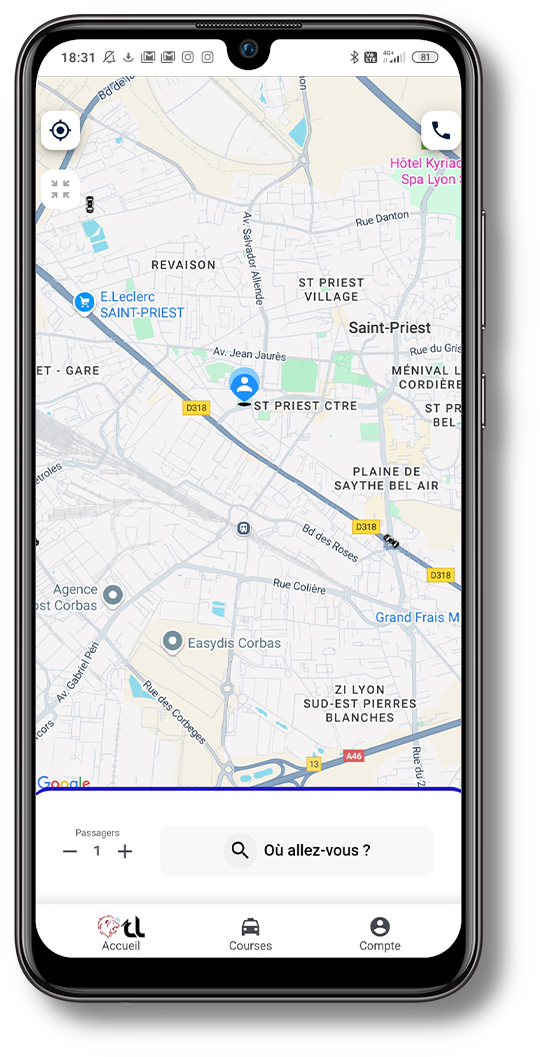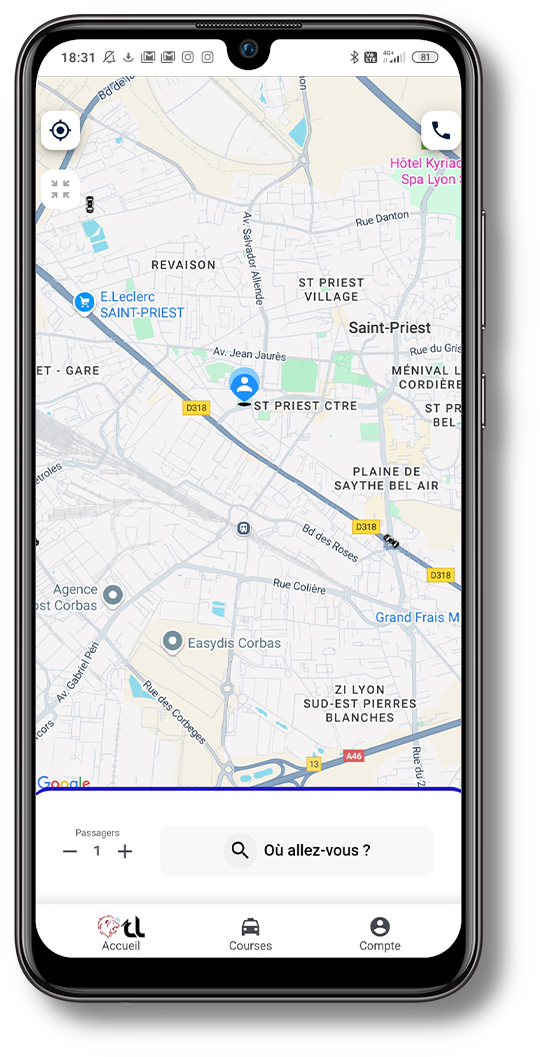 Choose your itinerary: departure, arrival, date and time, and the number of passengers and validate.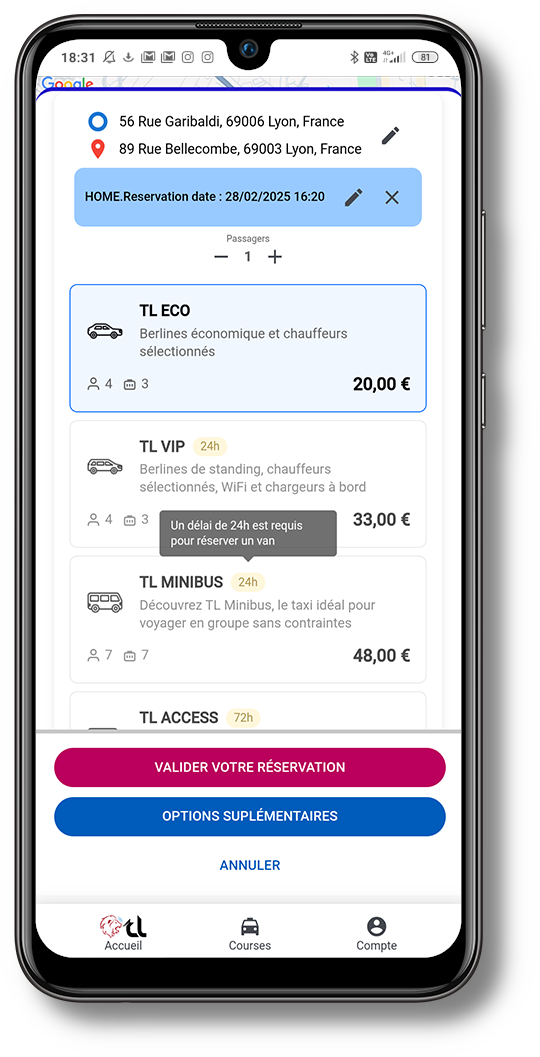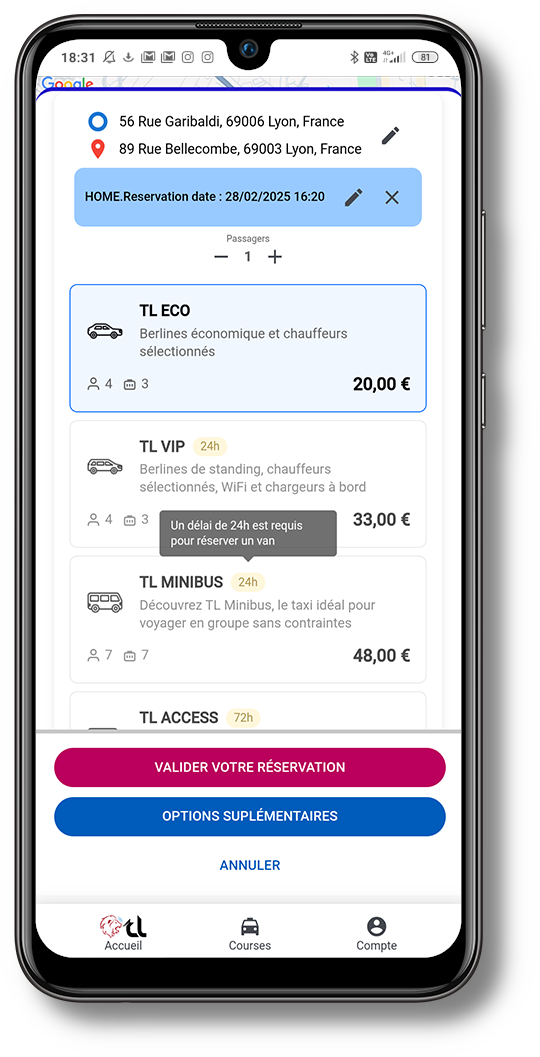 Consult the rates, add a baby seat or booster seat if necessary, select the desired vehicle and validate.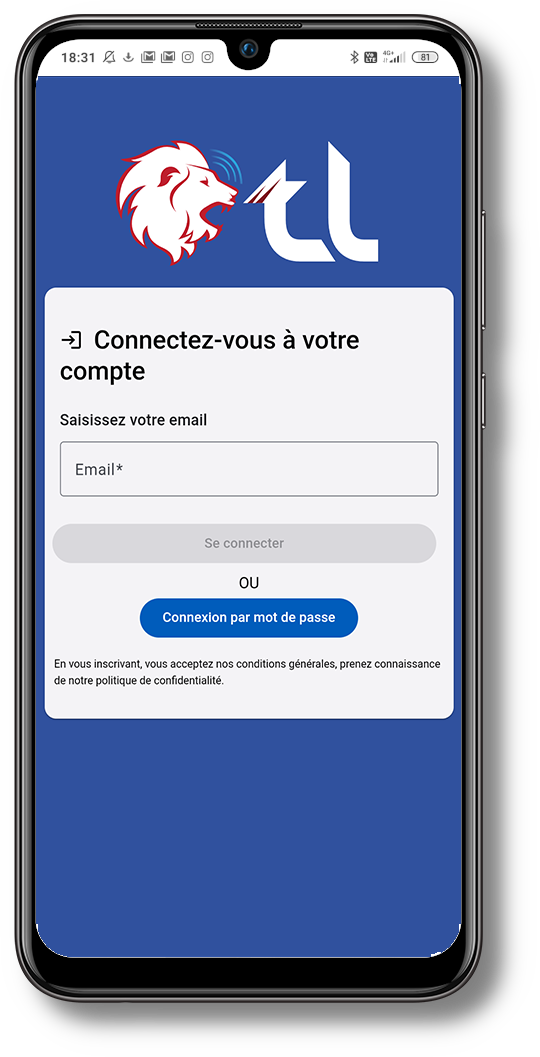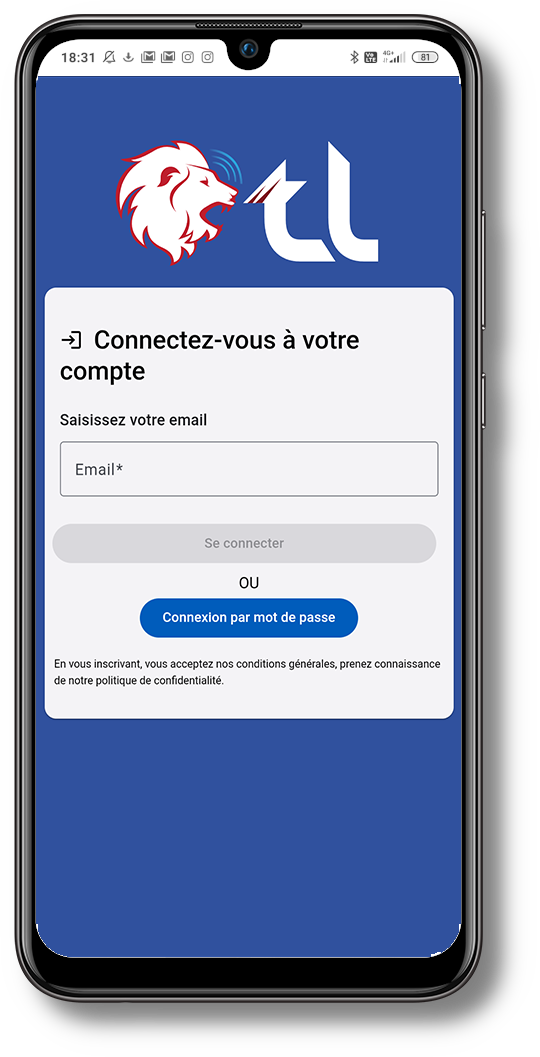 Settle your order, our call center will contact you by phone within 10 minutes for verification.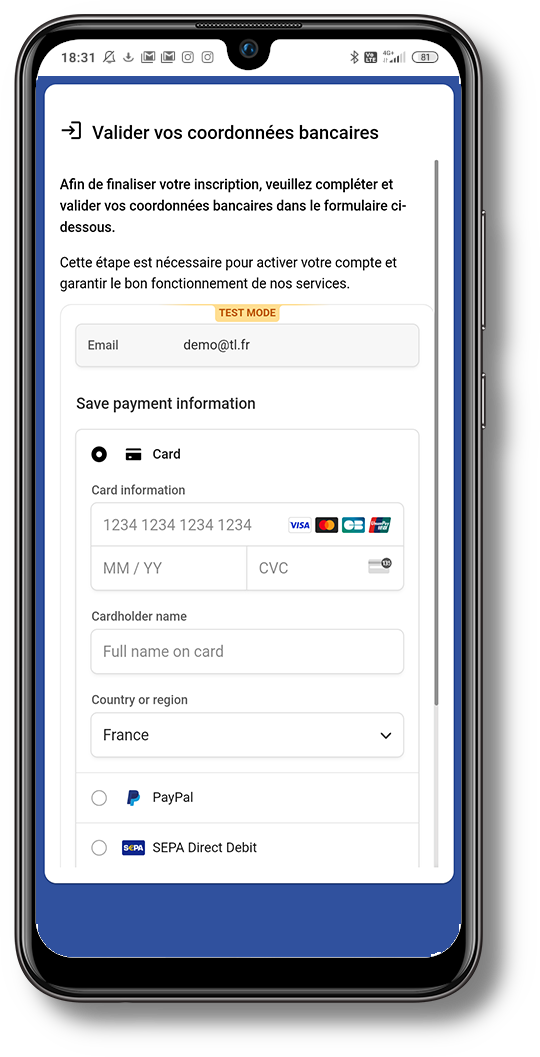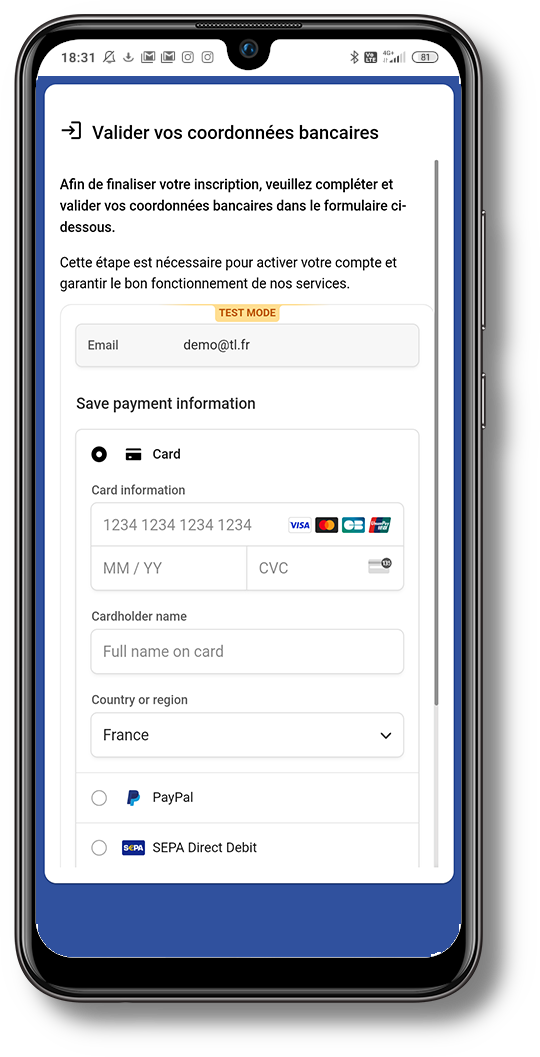 Settle your order, our call center will contact you by phone within 10 minutes for verification.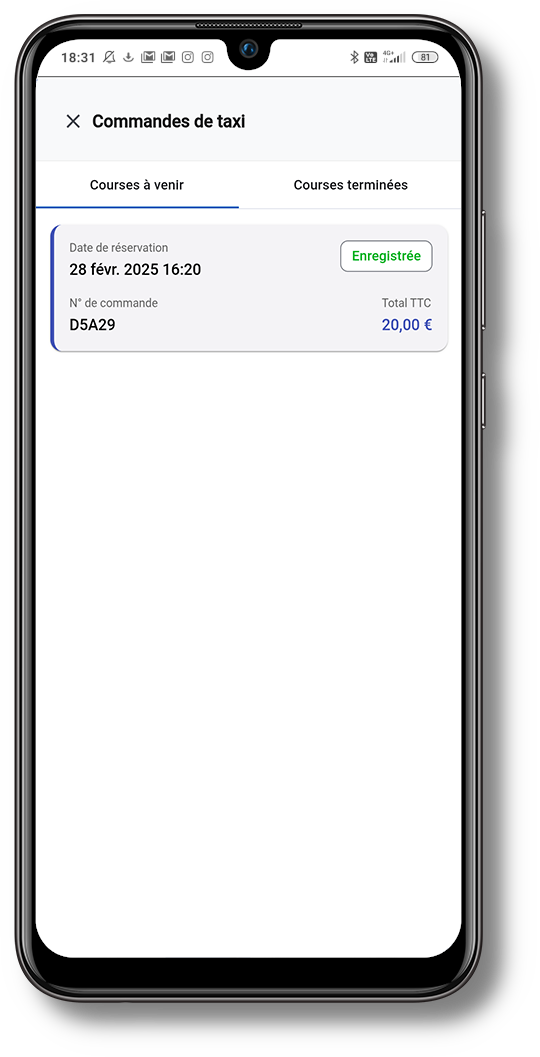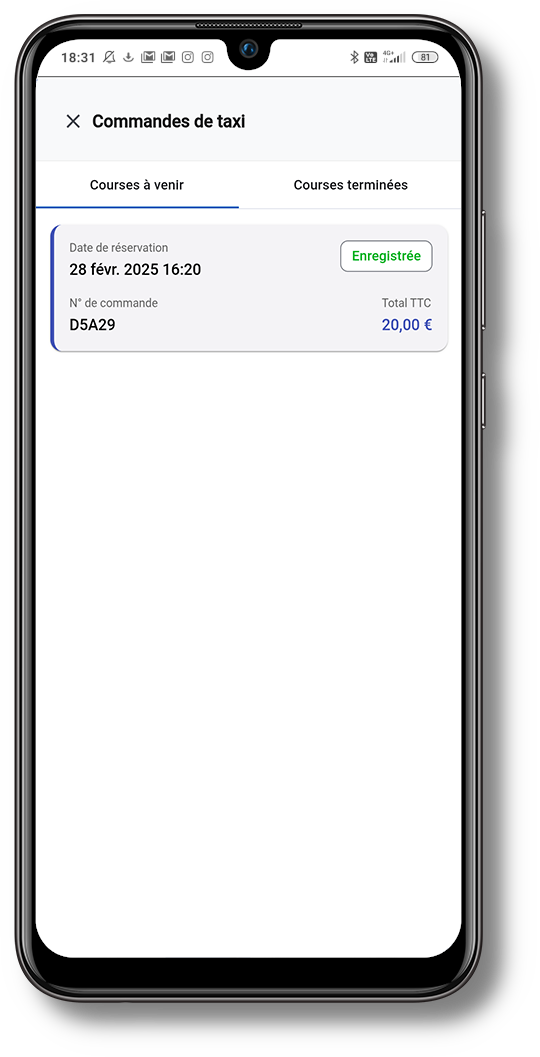 On the day of departure you can follow in real time your driver's route to the scheduled meeting point, as well as the estimated remaining time.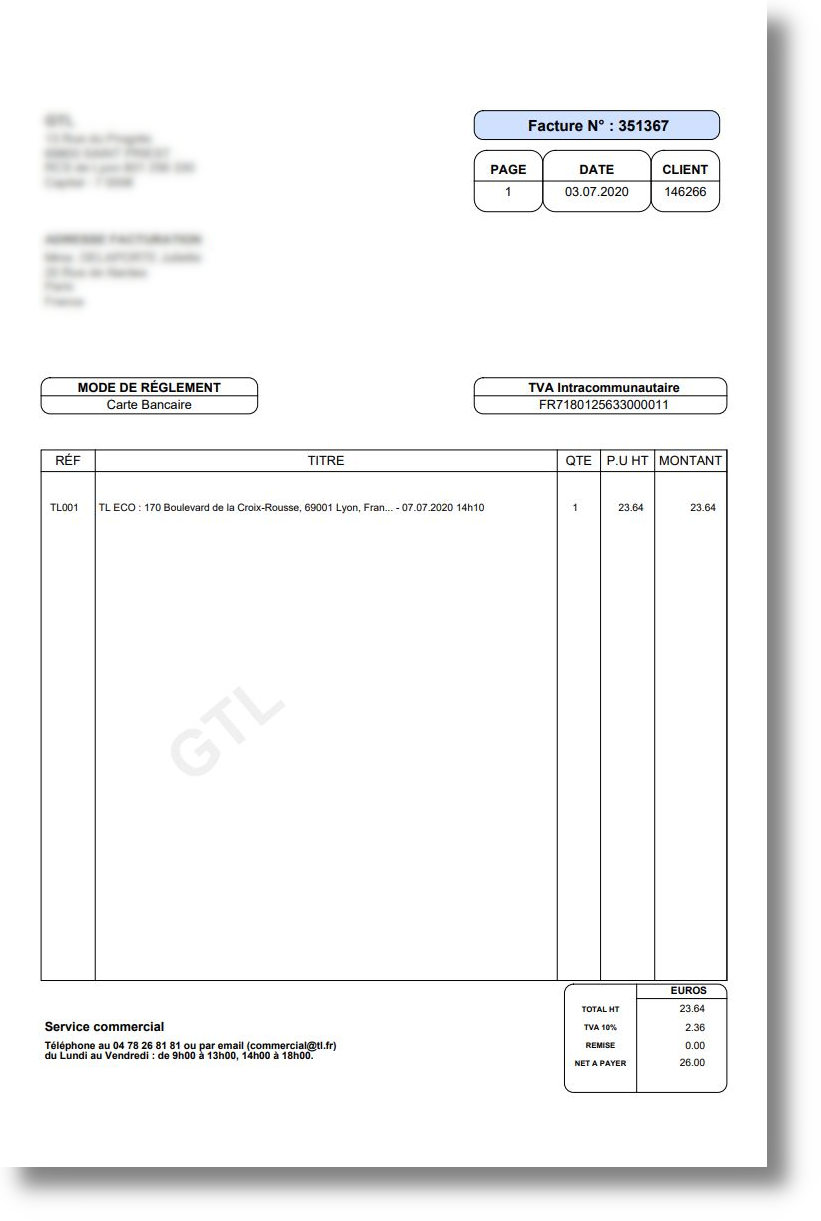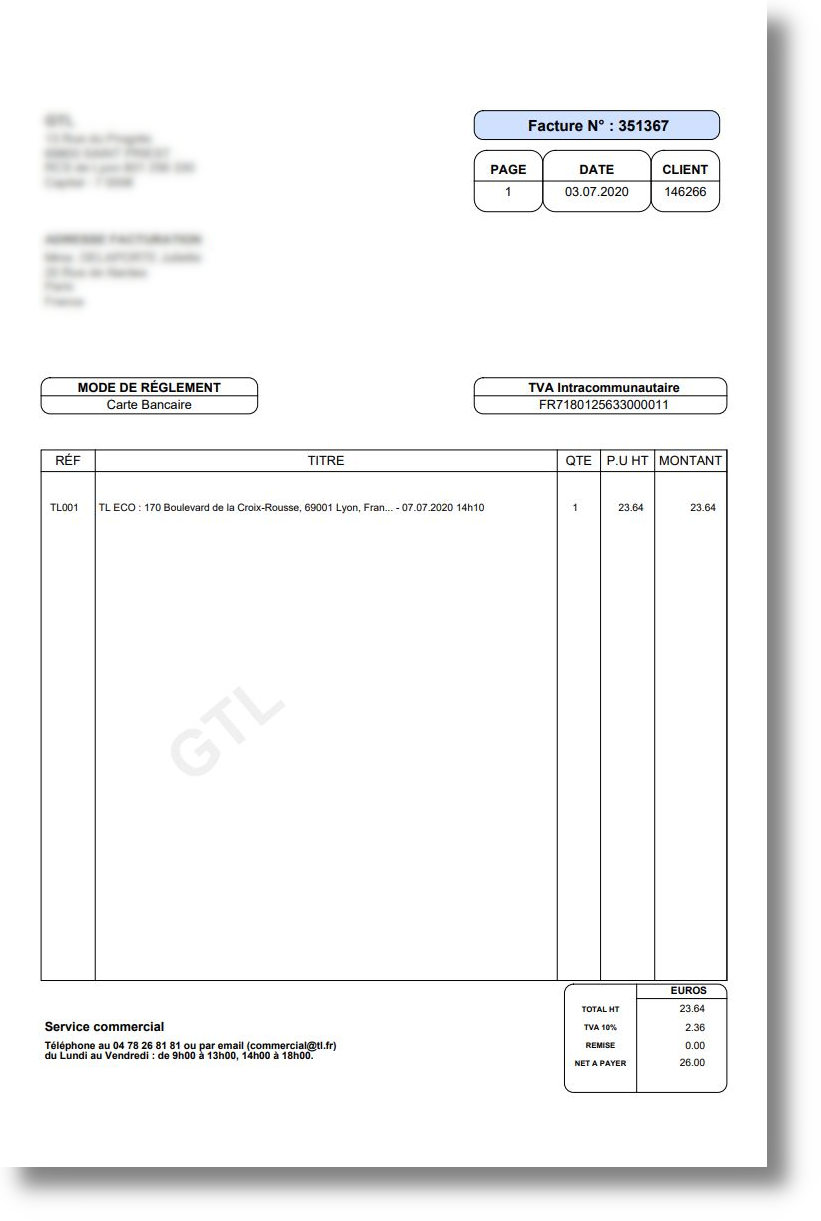 Once your trip is done you will receive the invoice corresponding to the amount paid at the time of the order. With TL Reservation no surprises, our prices are guaranteed in advance and without any surcharge, even in case of unforeseen circumstances such as heavy traffic.
And always the best service !
Switchboard open 24 hours a day, 7 days a week to answer all your questions

Personalized welcome in train stations and airports with your name

Possibility of reserving child seats and/or booster seats when you place your order

Quote available on request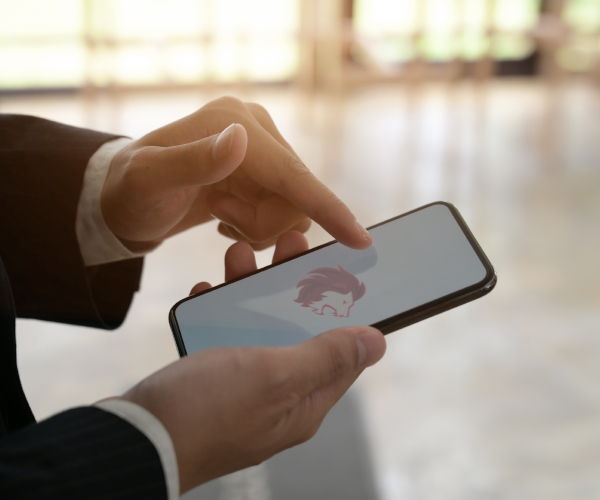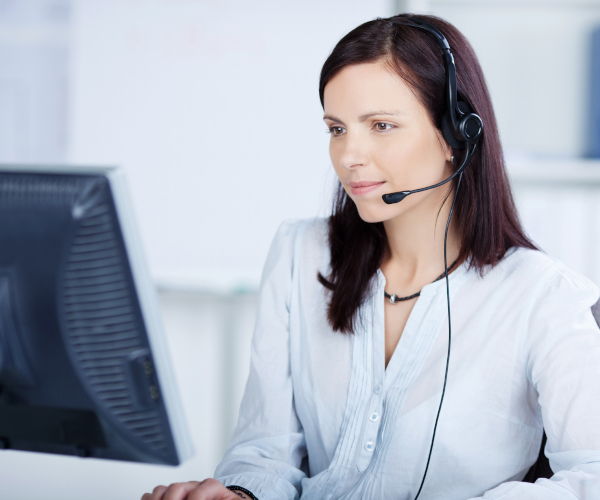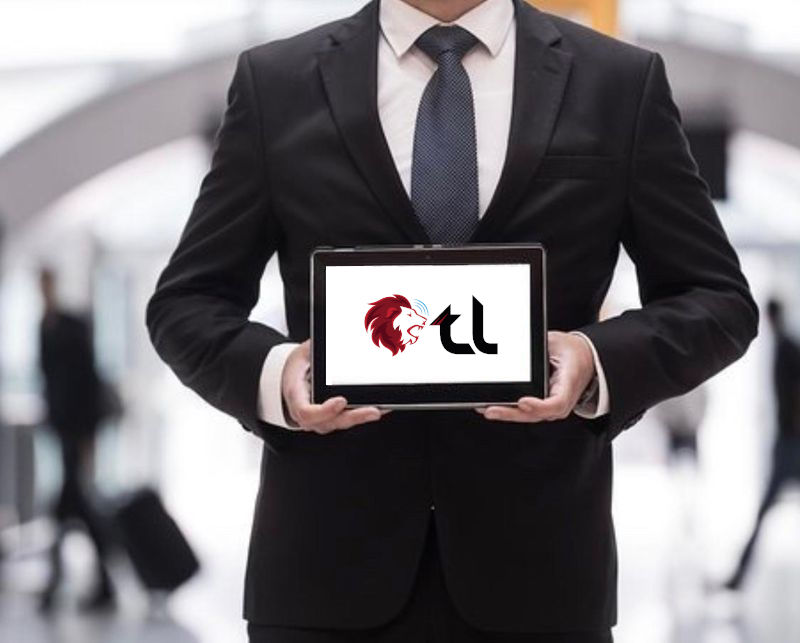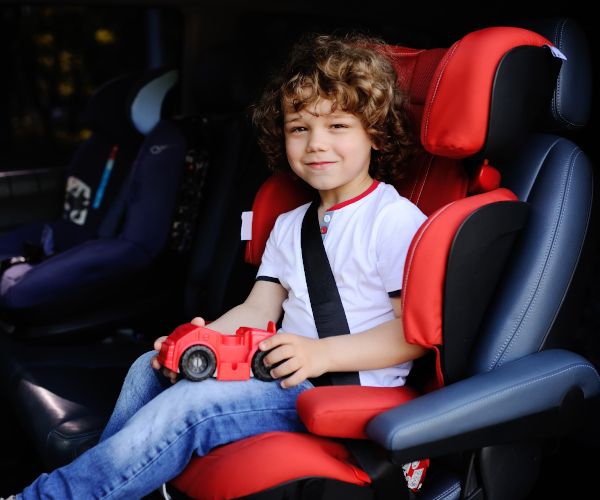 A solution adapted to all your mobility needs
Thanks to its fleet of 150 vehicles and its drivers selected for their punctuality and sense of service, with TL Réservation you are sure to find the transport you need.
For each trip, choose the service that suits you directly in the application :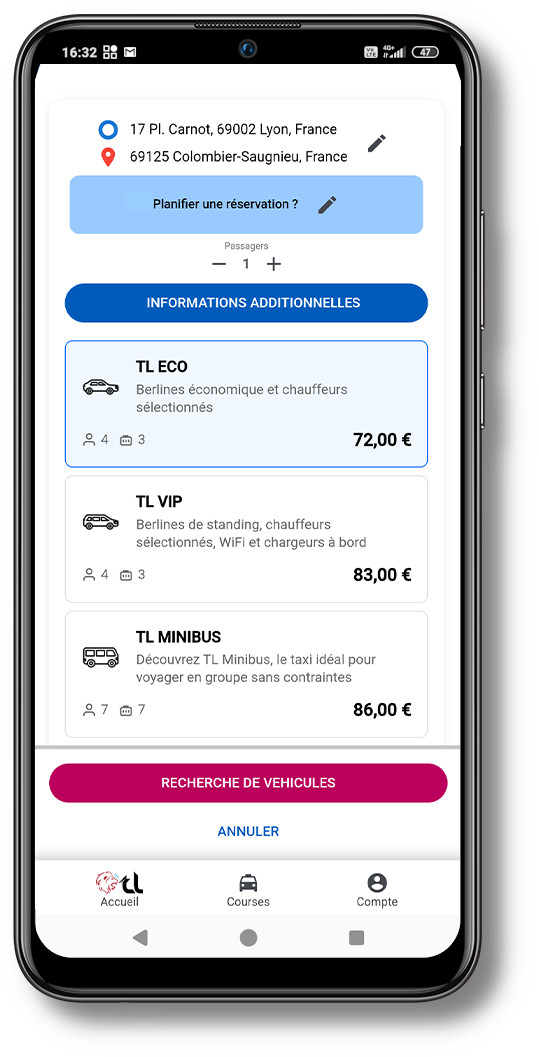 Taxi Lyonnais, a company recognized by its customers for more than 50 years...


...and rewarded with a score of 4.8/5 out of 1408 reviews
EKOMI is an independent platform that collects the opinions of our customers once their journey is over. Thanks to them, Taxi Lyonnais was awarded the "Ekomi Or" quality label with a score of 4.8/5. The feedback from our customers is valuable, and allows us to go even further in our quality of service.

Opinion of 27/06/2020
"Extremely satisfied. I ordered the taxi for a hospital discharge which could not take place because there was a problem during the surgery and I could not inform TL until 2 hours after the time of the VR. The trip was moved to the next day at no extra cost. Driver very on time."

>Opinion of 30/06/2020
"Single account to be created. Fixed prices announced before the order, no surcharge, followed by the driver at the top. Thanks to TL for offering this service to people with reduced mobility."

>Opinion of 07/07/2020
"Simple and intuitive application. My reservations are always served on time. the drivers are pleasant. the service confirmation by phone is a real plus. You feel reassured and you see the driver arrive on the smartphone. I highly recommend."